Australia Camera Market provides FREE service to list used camera gears.
Advertisements will be seen by hundreds of daily visitors. Listings will automatically posted to Facebook, Twitter & Google Plus.
Register now and start selling your Used Camera Gears, it is absolutely FREE to list & sell. No Final Fee, No Catch.
Create Account Already have an account? Sign In here
Australia Camera Market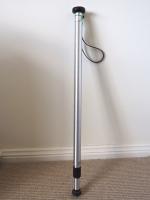 DURAL - New South Wales 2158
A lightweight solution for travellers. Easy to use, extends in a few seconds. In great condition.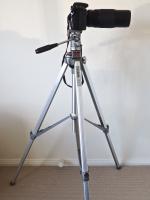 DURAL - New South Wales 2158
Velbon Studio Pro tripod, very solid tripod, can handle the largest and heaviest cameras and lenses (as shown). Reasonably light to carry. In very good condition.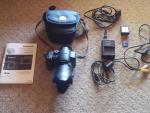 Panasonic Lumix DMC - FZ7, six Megapixels, Fully Programmable 12 X zoom (35mm camera equivalent 36mm to 432mm) plus digital zoom 4 X Leica lens with lens hood and adapter. All cords and chargers with one spare battery Lumix soft camera bag User manual 2GB SD card Very Good condition, Great starter and travel camera with a lot of...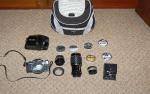 Minolta SRT 303 with Rokkor f=58mm 1:1.4 lens fitted Accura 55mm UV lens, Soft Lens Hood, 1 x MD Rokkor 28mm 1:3.5 lens with 49mm Fotar UV lens and hard lens hood 1 x Vivitar 58mm 80-200 zoom, 1:4.5 with Kenko 1 A filter, plus Vicitar Automatic Telkeconverter 2 x 5, Arrow 58 mm close up lenses #1, #2 & #4, 3 Lens Adapters, 58 - 62mm, 55-58mm,...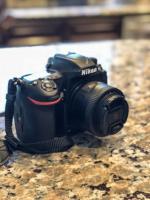 Point Cook - Victoria 3030
Nikon D500 used for around 6 months in very good, almost new condition. Camera was always babies and well taken care of, no scratches or nicks. Also, included in this will be the beloved Nikon 50mm f1.4. Large aperture for beautiful portraits or if you just want a really fast lens for letting in lots of light and bokeh! I absolutely love this...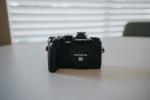 Swan Hill - Victoria 3585
Olympus OM-D EM-1 mark ii Camera Body. This is for the body only, no lens included come with Original Box, manual, strap, battery charger and extra battery are included. the battery life is amazing on this camera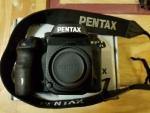 Darwin - Northern Territory 0800
This camera will come in original box. The shutter count only 8285. This pentax is one great camera. Comes with two Pentax batteries, two Pentax battery chargers, original Pentax strap and foto&tech remote shutter release, original eyepiece cap camera is in excellent condition.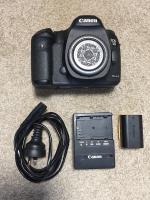 Melbourne - Victoria 3068
Used Canon 5D Mark III (Body Only) in excellent condition. Used for video for all of its life. Some minor cosmetic scratches on body. Fully functional. Fantastic images. Comes with: 1 x Canon LP-E6 battery Canon charger 3 x Sandisk Extreme 32GB CF Cards Optional Extra: Zacuto Z-Finder Pro 3....
Gold Coast - Queensland 5/22 Mary Avenue
This camera was bought brand new one year ago and it was almost never used - 3 times max. I also have cables, microphone, case and batteries in caso someone is interested, so we can arrange a package.
DURAL - New South Wales 2158
Nikon F601 -- a rare camera. Comes with 20-70mm f3.5-4.5 Nikkor lens. Also includes a set of close-up lenses and a UV filter.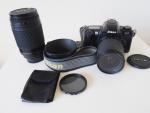 DURAL - New South Wales 2158
Nikon F65 camera with Nikkor 28-80mm 3.5-5.6 zoom and Nikkor 70-300mm f4-5.6 zoom. Accessories include strap, UV filter and Hoya polarising filter all in excellent condition.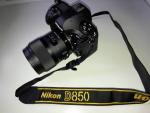 Nikon D850 body, amazing resolution, excellent cropping ability & dynamic range. FREE - Sony XQD G Series 128GB card with sale of D850 body. Excellent for full frame 4K video work. Shutter count as of 30/01/2018 = 3951 Works perfectly no issues, bought from Teds Camera store so it has Australian Nikon warranty. Purchased 7...
leichhardt - New South Wales 2040
Canon EOS 5D camera classic. Used but in good condition. Have upgraded, hence why I am selling. Included: Camera body canon strap canon battery and battery charger Pick up Leichhardt. Cash on collection. I have 2 camera bodies available, price for the second body negotiable.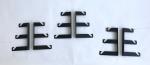 Brighton East - Victoria 3187
Supports in good condition, 3 sets for sale. New price per set $138 - MY PRICE $50 PER SET https://www.kayellaustralia.com.au/triple-hooks-p-341.html Pickup Brighton East 3187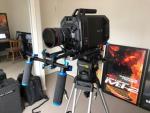 Pimpama - Queensland 4209
I BOUGHT THIS PROFESSIONAL 4K BMD FULL PRODUCTION CAMERA A FEW YEARS AGO TO SHOOT PICK-UP SCENES ON A FEATURE FILM IT PRODUCES FANTASTIC IMAGES AND SOUND COMBINED, REALLY THIS BAD BOY DOES IT ALL THE BODY COMES WITH SHOULDER RIGG & PAD AND V-LOCK BATTERY MOUNT + ONE 32GB LEXAR C-FAST CARD ORIGINAL BOX PLUS DAVINCIE RESOLVE USB & TOGGLE...
Kangaroo Point - Queensland 4169
Pre-owned Fujifilm FinePix F480 Digital Camera. In excellent condition with no cosmetic damage. Comes with a USB charger and case. An excellent point and shoot camera that fits nicely in your pocket.
Carindale - Queensland 4152
Great Tokina wide angle lense for DX Nikon camera (previously used on a D90 and D7200). Very good condition, used mainly for aurora and landscape photography, only very minimal wear and tear scratches - if any. Lens comes with hood, end cap, CPL filter and soft bag - with original box. No longer used often, better someone else use this great lens...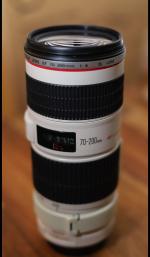 Marayong - New South Wales 2148
Hi, I'm selling my beloved 70 - 200mm f4 as I have upgraded to the 2.8 Perfect condition and has been treated with respect. Filter has been on since day one. I am including the CPL Filter and tripod ring mount. Let me know if your interested.
Sydney - New South Wales 2037
RRP ~$1900, selling for half price :) In perfect condition, comes with lens caps and lens hood. Please note this is a manual focus lense. Will ship to anywhere in Australia at buyers expense and will accept payment via PayPal.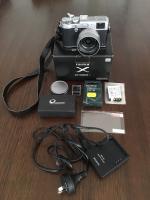 Success - Western Australia 6164
Selling my beloved X100T for an upgrade. Bought new and has been around the world with me, never letting me down. It has produced some spectacular images for me some of which are hanging on my walls at home. I wont go into the camera specs as if you are considering this camera you will already know. The camera is in excellent condition...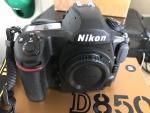 Port Hedland - Western Australia 6721
selling because I'm upgrading to the D5 this camera is the absolute professional top model. The camera is like new and purchase june 2017.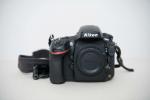 Bathurst - New South Wales 2795
D800e Mint condition No marks Shutter count 5935