Australia Camera Market provides FREE service to list used camera gears.
Advertisements will be seen by hundreds of daily visitors. Listings will automatically posted to Facebook, Twitter & Google Plus.
Register now and start selling your Used Camera Gears, it is absolutely FREE to list & sell. No Final Fee, No Catch.
Create Account Already have an account? Sign In here
Tripods
melbourne - Victoria 3192
Cambo UST studio stand. Excellent for studio work. In good condition. Pick up from Cheltenham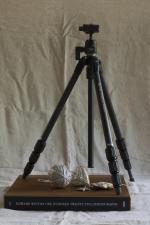 Sydney - New South Wales 2060
The Slik 614 tripod is a light carbon fiber tripod that folds down to a condensed 48cm. With a weight of only 1.9 pounds, the Slik tripod is great for those may be hauling their photography equipment into remote areas. The tripod supports 6.6 lbs. The minimum height for the Slik carbon fiber tripod is 4.3 inches. The maximum height for...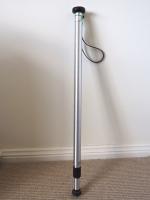 DURAL - New South Wales 2158
A lightweight solution for travellers. Easy to use, extends in a few seconds. In great condition.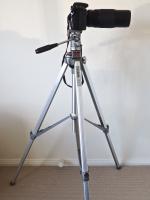 DURAL - New South Wales 2158
Velbon Studio Pro tripod, very solid tripod, can handle the largest and heaviest cameras and lenses (as shown). Reasonably light to carry. In very good condition.
Gymea Bay - New South Wales 2227
Manfrotto 055XPROB tripod with 498RC2 Ball head plus 410PL Quick Release Plate New Condition in Box The Manfrotto 055XPROB Tripod Legs Kit includes a 498RC4 Midi Ball Head with 410PL QR Plate. This plate allows you to easily remove or replace your equipment from or to the ball head. 3-Section Aluminum Tripod with 90 Degree Center...
This is a used (rarely) item in excellent condition. It is not in the original packaging. Includes 2 x quick release plates. Advertised elsewhere.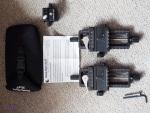 alexandra - Victoria 3714
Set of Macro rails from Really Right Stuff. Made in the USAbeautifully engineered, precise instruments! They are in fantastic condition and includes 2 rails 2 pouches and a cable spacer fo camera plate. happily held my DSLR and 70-200 lenswith not 1 mm of creep and no shake ever. Paid $900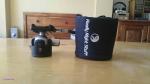 alexandra - Victoria 3714
Extremely good holding power! no slip or creep whatsoever! Held my D800 long lens and 2 macro rails in an almost stright down angel and never moved! beautiful American precise engineering from the USA. tightening Lever springs so it can be swiveled 360 for better grip.nice large handle.
alexandra - Victoria 3714
This multi row Pano rig is the best you can buy. Light weight and breaks down for travel easily. Beautiful engineering very tight no creep or shake ever. will comfortably hold a DSLR and 80-200 lens.
Melbourne - Victoria 3150
Like new comprehensive Miller tripod system. Barely used, this tripod includes: · Five changeable positions of drag · Payload 2–9kg · Counterbalance system · 60mm sliding camera plate ·...